Chiro's Girl is the 1st episode of the series.
Chiro's Girl
Season 1, Episode 1
Air date
September 18th 2004
Written by
Henry Gilroy
Directed by
Fumio Maezono and Ciro Nieli
Episode guide
Previous
None
Next
Depths of Fear
Plot
Chiro falls for a new girl, Jinmay, not knowing that she's a robot under the Skeleton King's control, but even Jinmay doesn't know it. Jinmay's monkey companion, Sakko, who was secretly a spy for the Skeleton King, took her to the Skeleton King's lair and then constructed her to be evil. Then it's a showdown between the monkey team and an evil robot Jinmay, under the control of Sakko. Jinmay must remember the good memories with Chiro to get back control of herself, and then stop the Skeleton King.
Episode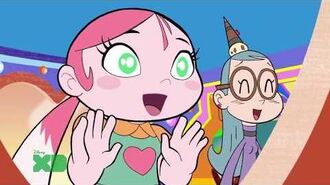 Community content is available under
CC-BY-SA
unless otherwise noted.